So you've been on our tour, seen the Il de la Cité and now you're probably hungry, looking to put your feet up for a second and interested in seeing what else Paris has to offer right around our office. Here are our top 10 picks for outings around our neck o' the woods.
10. Stop at the Goose for a 3 course meal with a glass of wine for 14 euros.
Why not have a delicious and inexpensive meal where Owen Wilson ate at playing Gil Pender in Midnight in Paris? Right along the Seine, looking at Notre Dame and Ile Saint-Louis, this bistrot offers great service and might even throw a free glass or two of wine in if you mention that you came from Set in Paris. We recommend the amazing beouf bourguignon, chicken with mushrooms or the delightful classic, french onion soup!
9. Walk along the Seine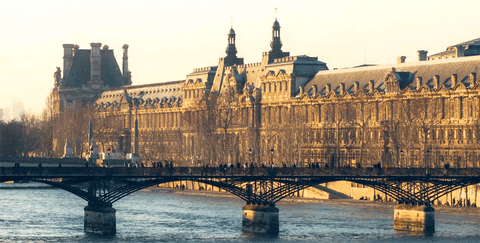 When you're in Paris, this activity goes without saying but we're adding it to the list because it is literally 20 steps from our office. Grab a crepe on your way there – the carts are everywhere – and walk down to the river. On a sunny day, there's nothing else like it. Make sure to bring your camera and a good book, sitting on the Seine might just be the most relaxing thing to do in Paris! Watch the boats go by and look at the beautiful back of Notre Dame and Ile Saint-Louis.
8. Take a stroll into Notre Dame
So you saw the famous cathedral on the tour, but don't let that stop you from taking a couple extra minutes to venture inside. It's much bigger than you think on the inside and made completely of off-white stone. It's filled with large, stone arches and columns and beautiful rod-iron chandeliers. And of course, there are the majestic North and South stained glass Rose Windows.  It's also home to a number of movies, including the Disney classic The Hunchback of Notre Dame and Amélie. And for those more adventurous, feel free to climb up one of the bell towers to get a sweeping view of Paris.
7. Shakespeare and Co. Cafe
For those who love all things reading and writing, the bookstore is a quaint and charming place to go grab a new read. What most people don't talk about however, is the adjacent cafe with smoothies, lattes and healthy little treats likes quiches, pies and brownie bites. They're the perfect little bite for a mid-day snack in between your sight-seeing. Its also a great place for tourists because the staff speaks English! But, it's not packed with tourists, so it feels Parisian. We recommend sitting outside if the weather permits and taking in the views of Notre Dame. There is also a beautiful little park right next to it.
6. Saint-Chapelle Church
Take a stroll down Quai Montebello and check out this spectacular church. It was built by the king when the court house used to be the old palace. The king was so lazy (and so wealthy) that he built a church just for himself so he can have quick access as soon as he stepped out of his bedroom. The steep spiral staircase is mind blowing, not the mention the walls covered in huge, colorful stained glass windows that will literally take your breath away when the sun hits them just right. We dub this as our favorite church in Paris – and definitely the most beautiful!
5. The Pantheon
Just a quick and lovely walk from the office, you'll find this massive structure which looks very Grecian and Roman with it's columns and vault. Originally a church, this building is now a massive mausoleum and home to many Parisian big shots. It's colorful and grand on the inside and there is even the option to climb to that top for a great view of Paris' Left Bank. Its quite striking when you walk up to the Pantheon and it is a memorable thing in Paris for sure. And just around the corner, you can find the church with the steps where Owen Wilson sat waiting for the vintage car to whisk him away to the 1920s.
4. The Luxembourg Garden
 A quick stroll from the Pantheon, this is one of Paris' biggest and most beautiful gardens. In the spring and summer, it is full of blooming flowers and bright green trees. In the center is a large fountain, where we recommend you sit with a good book and just unwind. The garden itself is very spread-out, with winding paths and plenty of areas of both sun and shade. Gardens are so Parisian, and this one is grand and beautiful!
3. The Latin Quarter

By exploring this fabulous "quartier" that is full of tiny cobblestone streets, slanted Parisian buildings from the Medieval period, quaint cafes, and old stone churches, it is so easy to be charmed. Here, you can find piano bars with basement rooms converted from old prison cells (where some prisoners carved into the stone and the chains and handcuffs that kept them locked up). Strolling down this quarter is wonderful and dreamy because of the great jazz and food , and also much more unique than roaming around busier areas like the Louvre and Rue de Rivoli on the Right Bank. Come night time, it's buzzing with energy and light.
2. Saint-Germain des Pres
This area adjacent to the Latin Quarter (where our office is) is quint-essential Paris. It's full of high-end shops, fabulous cafes such as Cafe de Flore and Les Deux Magots and the famous macaron shop, La Durée. Its always bustling with people and energy and is also where our Sex and the City and Gossip Girl tours are based in. It's a great place for those who love to shop and eat! But never fear, it's not all shopping. The famous Saint-Sulpice church is in Saint Germain, which was the model for the church in the Da Vinci Code. It's a great place to take a seat outside of with its beautiful facade and fountain in the center of the exterior plaza.
1. Boat cruise on the Seine
So there are a million places in Paris along the Seine to catch a boat tour, but there just so happens to be one 20 steps from the office. It is great for all ages, affordable, easily accessible and is a great way to see the city. You cruise down the Seine past Notre Dame, around the island, past the Louvre and Musée d'Orsay and go all the way to the Eiffel Tower in about 45 minutes. On a beautiful day, the water sparkles and nothing is more enjoyable. Don't forget to visit all the houseboats along the river and even the dinner cruises! Au revoir and bonne journée!